Cat Care and Boarding in Westport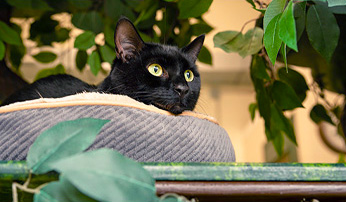 The Cat Clinic
At Schulhof Animal Hospital Cats are a Specialty. (Dr. Candace Benyei is our Resident Cat Advocate and frequently can be seen working at her computer with her tiger striped cat Zoom Zoom in attendance or even draped around her neck…)
To this end, Dr. Benyei designed a separate Cat Clinic with its own waiting room where clients can sip coffee or drinks from the drink bar and sunny exam rooms where no dog has ever set foot. Our Doctors are Members of the American Association of Feline Practitioners and our Veterinary Technicians are specifically trained in gentle cat restraint, with lots of Feliway pheromone to soothe any fears, and even our weighing scales have a soft cat bed on them. Besides general WellCare and SickCare, we offer the application of SoftPaws Nail Caps for Cats to preserve your furniture and rugs, and of course Cat Dentistry, including full mouth digital x-ray.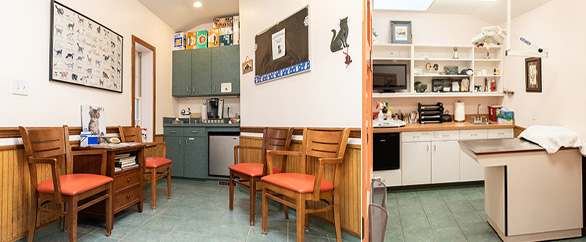 Cat Boarding
Our Kitties spend their time away from home in a separate cat area where no dogs are allowed. Each cat resides in a Kitty Condo with a separate bedroom and bathroom or if requested, * a two-story Town House!
Here they have: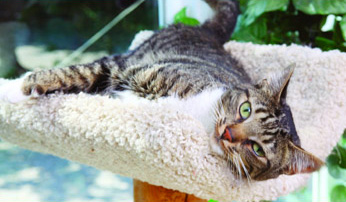 Access to our cats-only exercise and stretch sunroom with a large picture window for bird watching
Lounge time on our 6' high leafy life-like cat tree so they can climb and perch at leisure.*
Special fleece beds to be extra comfy
Fancy Feast cat food (or you can bring your own )
Snacks*, Dr. Chris Benyei's Home Grown Catnip*, and cuddle times*
Cat dental chews
* indicates there is an additional charge for this service.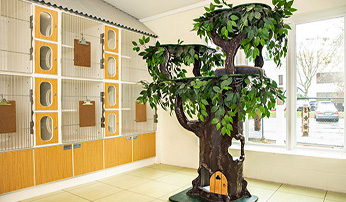 We provide washable toys and bedding. For a slight additional charge, we also offer cat dental treats as well as grooming in our Pet Salon. In fact, our groomer has a high degree of expertise when it comes to grooming our feline friends. You may find that your cat comes back from a stay at Schulhof Animal Hospital even more relaxed than when they arrived!
We do require that all guests are up-to-date with their Rabies and Feline Distemper vaccines.