Veterinary Dentistry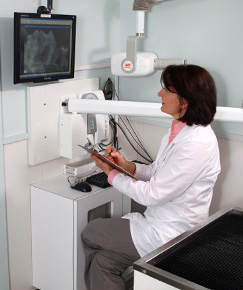 Dental hygiene is an important part of your pet's health and can often be the cause of serious illness.
It is estimated that more than 80 percent of dogs and 70 percent of cats develop tooth and gum disease by the age of three years. The most common dental condition affecting dogs and cats is periodontal disease. Periodontal disease is an infection and inflammation of the gums and supporting tissues of the teeth. The disease is caused by bacteria present in plaque and calculus (tartar). Periodontal disease begins when plaque and calculus build up on a pet's teeth, especially below the gumline. Bad breath is often the first noticeable symptom of the disease. Bleeding, inflammation and receding gums, pain and difficulty chewing, loosening and the eventual loss of teeth are characteristic symptoms of the disease.
Periodontal disease is classified under two categories; gingivitis and periodontitis. Gingivitis is the more mild form of periodontal disease. Gingivitis is an inflammation of the gum tissue resulting in redness, swelling and discomfort. With effective and timely teeth cleaning, gingivitis can be completely reversed. Untreated gingivitis can lead to periodontitis or severe inflammation around the tooth root, which in turn can lead to tooth loss.
Periodontitis is a condition that may be controlled but not totally cured. It is most often seen in pets who are over five years old. Most animals with periodontitis have bad breath, tooth mobility and bleeding gums. Severe inflammation of the gums, gum recession, alveolar bone loss (the bone that supports the tooth is "eaten away"), and pustular discharge are common signs of periodontitis. Dental problems, if left untreated, can often lead to larger systemic problems in your pet. Oral bacteria, associated with periodontitis, can be released into the bloodstream causing life-threatening damage to the kidneys, heart and liver.
At Schulhof Animal Hospital, we feel that your pet's dental health is extremely important to his or her quality of life. When your pet has healthy teeth, he or she feels great. Each time one of our veterinarians examines your pet, a complete dental check-up is performed. If tartar or dental plaque is found, we have the finest equipment for cleaning your pet's teeth. Periodontal disease prevention typically includes ultrasonic scaling, subgingival manual scaling, and polishing.
Veterinary dentistry is very different from the equivalent process in people. For most of us, caring for our teeth and gums has been part of our daily routine for as long as we can remember. Consequently, a person's visit to the dentist is relatively brief and does not require sedation, tests or anesthesia. In contrast, veterinary dentistry is considerably more involved, time-consuming, and complex. It requires general anesthesia, and consequently a day's hospitalization as well as the skills of several people, from veterinarians to veterinary technicians and animal attendants.
There are clear indications that oral health status has a profound effect on your pet's attitude and general health. Your pet's dental examination is therefore not limited to the oral cavity, but always includes a general physical examination. Laboratory blood tests, to evaluate other disease concerns, are also commonly performed. Some dogs and cats suffer from chronic oral infection or stomatitis, a poorly understood condition, which is frustratingly difficult to treat.
Keeping your pet's teeth clean is fundamental for preventing periodontal disease. Your veterinarian may recommend an oral hygiene program that includes in-hospital teeth cleaning followed by an oral home care treatment. The veterinarians and the entire staff at Schulhof Animal Hospital work very hard to make sure your pet's teeth are always the best they can be.
Because veterinary dental care is an important part of a preventative medical regimen, Schulhof Animal Hospital offers a full range of dental services that start with a thorough exam and cleaning.
Unlike many other veterinary hospitals, our routine dental prophylaxis includes sub-gingival cleaning and ultrasonic scaling while your pet is under anesthesia. This means we are able to remove plaque and tartar that accumulates below the gum-line, which is the primary cause of peritonitis as well as tooth and/or bone loss.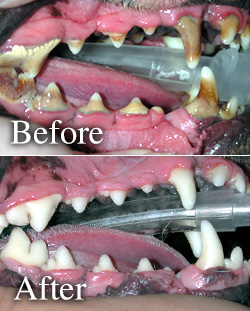 We also polish the teeth and apply sealer so that your pet does not emerge from the procedure with rough surfaces on their teeth, which are far more susceptible to accumulating plaque. We can also insert slow-release antibiotics below the gum-line to quickly and easily resolve severe gum and bone infections.
Schulhof Animal Hospital is also well equipped to diagnose tooth and bone loss, which can be very difficult to identify through a routine visual inspection. We are one of the very few veterinary practices to offer computer-enhanced digital dental X-rays. In fact, our equipment is more advanced than that of many dentists. What this means for you and your pet is that we are able to identify and diagnose these signs of periodontal disease quickly and completely so that it may be treated during your pet's prophylactic procedure.
Prevention: The Best Medicine
Dental care does not end with a visit to your veterinarian. You need to continue your veterinarian's good work at home. Brushing your pet's teeth is an important part of home dental care. Subsequent to your pet's dental procedure, a technician will instruct you in the proper method of brushing your pet's teeth and give you a complimentary dental "goodie bag" with toothpaste and dental chews.
We also will help you learn to identify the signs and symptoms of periodontal disease, which include:
Bad breath—one of the first signs of dental disease
A yellowish-brown crust of plaque on the teeth near the gum line
Red and swollen gums
Pain or bleeding when your pet eats or when the mouth or gums are touched
Decreased appetite or difficulty eating
Loose or missing teeth