Our In-House and On-Line Pharmacies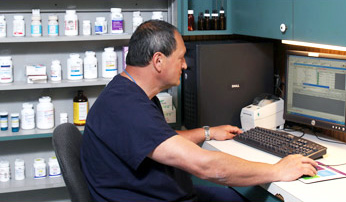 In numerous acute or chronic conditions, medication is required to cure or alleviate symptoms. At Schulhof Animal Hospital we believe that timely and convenient access to these medications is an important aspect of caring for your pet. For this reason, we maintain a comprehensive pharmacy, while at the same time, maintaining relationships with compounding human pharmacies for special prescriptions.
Not only does our pharmacy mean you don't have to wait for important medicines for your pet, but there is a direct line of communication between the examination room and the pharmacy window. Each medication becomes part of your pet's medical record, which reduces the chance for errors and enhances our ability to monitor its use and the outcome for your pet.
We also have an On-Line Pharmacy that delivers, for your on-going needs. Inquire at our Front Desk as to how to sign up for this or simply click on the On-Line Pharmacy link on our Home Page. Or, if you prefer, or need a very special medication refilled, simply give us a call and we will have your medication ready to pick up.