Veterinary Surgical Care for Your Pet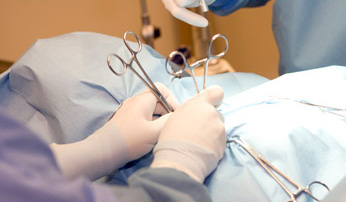 Advancements in veterinary care mean that surgical procedures are far safer than ever before and, in most cases, recovery times are significantly reduced. Schulhof Animal Hospital has a complete surgery suite and is dedicated to providing your pet with the highest quality of care with the most compassionate approach. This includes the most up-to-date pain management protocols, advanced monitoring equipment and the safest anesthesia available, all under the supervision of our highly trained technical staff.
Surgical Services
We understand that surgery is not an easy experience for you and your pet. At Schulhof Animal Hospital we strive to ensure your pet's surgical procedure is as comfortable and stress-free as possible. To that end, we provide our clients with a clear understanding of why a particular procedure is necessary, what the procedure entails, proper post-operative care, and convey any other information you may need to feel comfortable that you are making the right choice for your pet.
Staffed by a team of highly trained and experienced veterinarians and veterinary technicians, we are proud of the quality of surgical care we provide. Our state-of-the-art surgical suite resembles those seen in human hospitals with capped and gowned surgeons, sterile procedure, and fully equipped with modern surgical, anesthetic and monitoring technologies.
We also believe that identifying and relieving pain is important to the recovery of your pet. Therefore, pain management is an important aspect of our intra- and post-surgical protocols. At discharge, we may also send additional pain management medication home with you and your pet after providing a thorough explanation of its proper use and dosage.
Anesthesia & Monitoring
Anesthesia and cardiovascular monitoring are important, integral aspects of every surgery we perform. For this reason, your pet has access to the best and most advanced anesthetic administration and cardiovascular monitoring equipment and protocols available.
Anesthesia is individualized for your pet based upon a number of factors including the type of procedure, pre-existing conditions, blood test values, age, breed and prior anesthetic experience. If we are uncertain about the status of your pet's cardio-circulatory system, we can also perform pre-anesthetic X-rays and EKGs. We limit the amount of anesthesia (without sacrificing pain control) by employing pre-medications, local anesthetics and by using continuous rate infusions of pain medications. Your pet's anesthesia time is also reduced by having a highly trained and organized surgery team, utilizing the most up-to-date instruments that shorten surgery procedure time.
During anesthesia and surgery, your pet is constantly monitored by a trained veterinary technician as well as with an advanced electronic monitoring device that measures six vital parameters (EKG, respiration, pulse, blood oxygenation, core body temperature and blood pressure). Additionally, all surgery patients receive warm IV fluids through an IV catheter in order to maintain blood pressure, hydration and as route for immediate administration of emergency medications if ever needed. Anesthesia and surgery can vary greatly from one veterinary hospital to another and we try to maintain the safest anesthesia and surgery protocol for each of our patients.
For all major surgical and dental procedures, patients are intubated and receive gas anesthesia, which is easier to regulate than injectable anesthetics.