Dog Boarding at Schulhof Animal Hospital in Westport, CT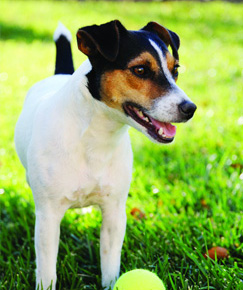 Why rely on a friend or untrained pet sitter to take care of your pets while you're on vacation, out of town for business or merely at the office all day? Schulhof Animal Hospital's pet boarding facility offers your pet a safe, comfortable and fun place to stay so you can be sure your pet isn't lonely and is well cared for. We offer a high touch boarding experience with three one-on-one walk and discover services out in the fresh air every day as part of our basic board. And by buying one of our special packages, which are an incredible value, your pet will be insured almost constant attention.
Your pet's stay can also be enhanced with medical or wellness care with services such as pedicures, grooming, behavioral and nutritional counseling, yearly check-ups, dental services, flea, tick, and parasite prevention, and even laser therapy for aches and pains. And your pet will always be attended to by highly trained veterinary assistants and veterinary technicians all immediately over seen by veterinarians should your companion develop any kind of problem.
Dog Boarding Packages include:
7x4 Single Suites and 7x7 double Suites, or cozier quarters for pets that are comfortable in smaller spaces
Fresh Air Exercise including fetch or free-style play* (you choose what kind)
Pupsicle frozen treats (made in house)*
Social Time*
Comfy Bedding
Senior Care*
Rescue Remedy (for those that are feeling a little anxious)
* indicates there is an additional charge for this service.
For a slight additional charge, we also offer a Go Home Fresh Bath, teeth brushing, and grooming in our Hair Care Salon.
The Particulars
We also require that all guests are up-to-date with their vaccines:
Dogs are required to have:
up to date Rabies vaccination
up to date Bordetella vaccination
up to date Distemper/Parvo vaccination or valid titer
up to date Bi-Valent Flu vaccination
a negative Fecal test within 90 days of scheduled boarding
To make certain your pet is in good health, our trained staff will perform a head-to-toe check, take their temperature, and check their weight immediately when your pet arrives. If we find any conditions that we feel should be treated we will contact you immediately. We will perform a second head-to-toe check at time of discharge. If we find any conditions that we feel should be treated we will contact you immediately.
Due to the infectious nature of kennel cough and canine influenza, if your dog has boarded at any other facility within two weeks prior to your scheduled boarding with us, your dog will be kept separate from the general population for the first few days as a precaution.
For safety and hygienic reasons, we DO NOT accept bedding or toys, as we cannot guarantee that they will be returned to you. As a general precaution we do not leave toys or chews in the cages with the pets.