Dog Boarding & Training at Schulhof Animal Hospital in Westport, CT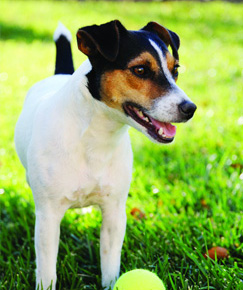 Dog Boarding
Why rely on a friend or untrained pet sitter to take care of your pets while you're on vacation, out of town for business or merely at the office all day? Schulhof Animal Hospital's pet boarding facility offers your pet a safe, comfortable and fun place to stay so you can be sure your pet isn't lonely and is well cared for. We offer a high touch boarding experience with three one-on-one walk and discover services out in the fresh air every day as part of our basic board. And by buying one of our special packages, which are an incredible value, your pet will be insured almost constant attention.
Your pet's stay can also be enhanced with medical or wellness care with services such as pedicures, grooming, behavioral and nutritional counseling, yearly check-ups, dental services, flea, tick, and parasite prevention, and even laser therapy for aches and pains. And your pet will always be attended to by highly trained veterinary assistants and veterinary technicians all immediately over seen by veterinarians should your companion develop any kind of problem.
Dog Boarding Packages include:
7x4 Single Suites and 7x7 double Suites, or cozier quarters for pets that are comfortable in smaller spaces
Fresh Air Exercise including fetch or free-style play* (you choose what kind)
Pupsicle frozen treats (made in house)*
Social Time*
Comfy Bedding
Senior Care*
Rescue Remedy (for those that are feeling a little anxious)
* indicates there is an additional charge for this service.
For a slight additional charge, we also offer a Go Home Fresh Bath, teeth brushing, and grooming in our Hair Care Salon.
The Particulars
We also require that all guests are up-to-date with their vaccines:
Dogs are required to have:
up to date Rabies vaccination
up to date Bordetella vaccination
up to date Distemper/Parvo vaccination or valid titer
up to date Bi-Valent Flu vaccination
a negative Fecal test within 90 days of scheduled boarding
To make certain your pet is in good health, our trained staff will perform a head-to-toe check, take their temperature, and check their weight immediately when your pet arrives. If we find any conditions that we feel should be treated we will contact you immediately. We will perform a second head-to-toe check at time of discharge. If we find any conditions that we feel should be treated we will contact you immediately.
Due to the infectious nature of kennel cough and canine influenza, if your dog has boarded at any other facility within two weeks prior to your scheduled boarding with us, your dog will be kept separate from the general population for the first few days as a precaution.
For safety and hygienic reasons, we DO NOT accept bedding or toys, as we cannot guarantee that they will be returned to you. As a general precaution we do not leave toys or chews in the cages with the pets.
Puppy Socialization and Dog Training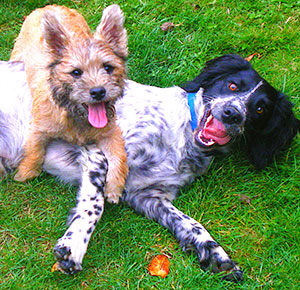 The Schulhof Puppy Socialization Program
Because it is important for puppies to learn how to be dogs!
Interacting with a wide range of other puppies helps your puppy to learn how to read and react to dominant and submissive body language, making it more confident and reducing the chance of poor behavior in adulthood.
In our Puppy Play Groups, your puppy will also build not only social confidence, but environmental confidence. Exposing your pet to a variety of environments at a young age will help it grow into a dog that can tolerate and even enjoy unfamiliar places and things. In our program we will guide your puppy through a series of unique situations, making sure that the experience is a positive one.
When Can I Start Puppy Socialization?
The sooner the better! Puppies go through their optimum learning period between seven and sixteen weeks of age. This is the key time to expose young puppies to other dogs, people, and environments.
Is It safe To Bring My Young Puppy To Socialize With Multiple Dogs?
Our Puppy Play Group puppies are matched by size – small ones with small ones and large ones with large ones. And you can be assured that all of the dogs in the socialization environment are current on their inoculations and are parasite free. To keep your puppy protected, we require up-to-date rabies, Bordetella, a second DHPP shot, and a negative fecal exam.
Call today to reserve a spot for your puppy!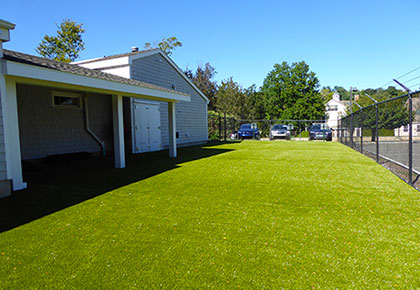 Dog and Puppy Training at Schulhof
We have constructed a new Puppy Socialization and Dog Training area with artificial turf and a shade structure in the fenced in area at the back of the animal hospital.
Why is Dog training Important?
Dogs are MUCH move loveable when they do not jump up on people, especially strangers, walk by your side on and off leash, instead of dragging you down the path, come when called, especially when a dangerous situation arises, or sit and stay on command, especially when you are dining outdoors or with a group of people. Dogs need to know you are in charge, or they will take charge, and their needs and desires may be different than yours… the majority of dogs are surrendered because of behavioral issues.
What will my dog/puppy learn?
Over the course of time, in our training sessions, your dog will learn to obey the commands, Focus, Sit, Down, Stay, Leave It, and Drop It, as well as Loose Leash Walking and Coming when called. We can also help you solve a variety of behavioral problems, such as Chewing, Jumping, and Nipping, as well as Aggressive Behavior.
Requirements
Up to date Rabies, Bordetella, and Distemper/Parvo vaccinations are required. Dog aggressive canines cannot participate in group classes, but need to be seen individually.
Our Dog Trainers
To keep your two and four-legged family happy, we now have two Dog Trainers!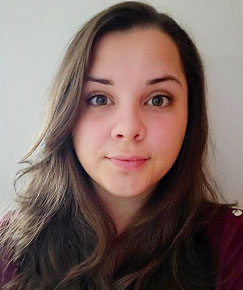 Robyn Bartomioli
Robyn Bartomioli, our new Kennel Manager, is a graduate of SUNY Cobleskill with a four year degree in Canine Management and Training. She also has Vet Tech experience. Robyn is in charge of Puppy Play/Socialization groups.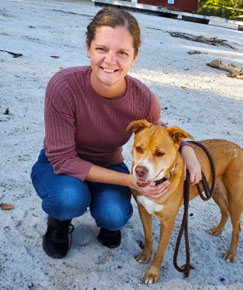 Julia King
Julia King, who is from Germany, is a professional Dog trainer certified by the Animal Behavior College in 2015. Julia has been training Dogs for over 13 years, using positive training methods in different parts of the country. She has worked with all ages and breeds of dogs with many different behavior problems and volunteers her spare time fostering dogs and volunteering with local rescues.
Julia offers 6- week Group Beginner and Advanced Obedience Training courses, which meet once a week, one hour per session, with 3-5 dogs each. Julia also offers individual sessions for dogs with behavioral problems such as nipping, chewing things they shouldn't, jumping on people, and using the house as a toilet.
Call and reserve your spot in one of our training programs today!