Providing Integrative Medicine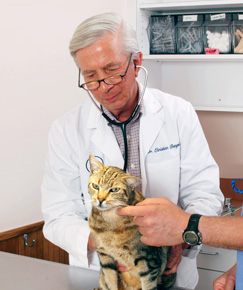 As pet owners ourselves, the veterinarians and staff of Schulhof Animal Hospital truly believe that sharing your home with a pet is an immensely rewarding and satisfying experience. We also understand that the relationship you have developed with your pet is unique and important to you. This is why Schulhof Animal Hospital takes an approach to veterinary medicine that is far broader than the care offered by most other veterinary practices. We also believe that superior medical care is only performed by experienced and highly trained doctors, technicians and support staff. We only hire the best and brightest doctors and staff that are always striving to stay at the forefront of veterinary medicine. In all, Schulhof Animal Hospital is able to provide a standard of care to your pet and level of service to you that go well beyond what you will experience at other veterinary practices.
Schulhof Animal Hospital also recognizes the unique and complementary role that alternative therapies play when used in harmony with traditional western medical practices. Complimentary medicine is designed to stimulate the body's natural healing abilities. It can also complement traditional treatments by enhancing their effectiveness and reducing their side effects. As we develop a treatment plan for your pet, our veterinarians incorporate all of the factors underlying your pet's health, integrating our knowledge of traditional and complementary medical approaches. This means that in addition to thorough wellness exams and the appropriate use of vaccines, we may suggest therapies such as laser therapy, herbal and homeopathic remedies, nutritional approaches, Advanced Allergy Therapeutics, and behavioral therapies to more fully meet your pet's health requirements.
The foundation of your pet's health is the thorough practice of preventative care, which includes a complete physical examination at least once each year. A regular checkup is just as important for your pet as it is for you. It provides you and your veterinarian with the opportunity to develop a picture of your pet's overall health as well as to spot potential medical issues before they become serious health concerns. To this end Schulhof provides comprehensive WellCare Services and the continuity of care that you do not get at a big box store. Read more…
We are also experts in Senior and Geriatric Veterinary Care and pride ourselves on serving the older, long-loved pet population. Read more…
In addition to old-fashioned educated human intuition, Schulhof Animal Hospital provides Diagnostic Services in the form of Digital Radiographs, Ultrasound Imaging for soft tissue, Electrocardiographs for the heart, and an In-house Laboratory for blood counts, blood chemistry's, and tissue exams. Read more…
For your convenience we also have an in-house Pharmacy for immediately needed prescriptions, as well as an On-line Pharmacy that delivers for your on-going needs. Inquire at the front desk regarding signing up for our On-line Pharmacy or click on the link on our Home Page. Read more…
We also provide soft tissue Surgical Services, and, since anesthesia is an integral aspect of every surgery, we perform we provide the best and most advanced anesthetic administration and cardiovascular monitoring equipment and protocols available. Read more…
We also provide Cryosurgery, which is less invasive and can be used for removal of tumors, cysts, skin tags, and other superficial skin disorders. Depending on the size and location of the area to be frozen, your pet may or may not need to be tranquilized or anesthetized. Read more…
Because poor dental hygiene can be the cause of serious illness, Schulhof Animal Hospital provides high quality Dentistry, including dental prophylaxis, as well as tooth scaling, periodontal surgery and extractions, all assisted by digital dental x-ray and under anesthesia. Read more…
Schulhof Animal Hospital was one of the first practices in the area to use Laser Therapy for pain relief, wound healing, arthritic conditions, intervertebral disk disease, pyotraumatic dermatitis (hot spots), post-surgical pain relief and incision healing, degenerative joint disease, lick granulomas, lacerations and abrasions, periodontal disease, gingivitis and otitis, among other things. Read more…
We may use Nutritional Supplements & Herbal Medicine. Nutritional approaches let food be the medicine. Depending on your pet's condition, our doctors will help you choose the right diet for your pet. We may also prescribe natural vitamin, mineral, and enzyme supplements, as well as a variety of joint and coat supplements. Or we may use Herbal Medicine, as there has been a movement to explore and use more ancient, complex plant-derived medicines. A number of our practitioners are studied in the use of herbs for healing. Read more…
We may also use Homeopathy, a form of energy medicine, derived from plant, animal, and mineral substances which potentiate the body's own innate capacity to heal itself. Read more…
And finally, Schulhof Animal Hospital is excited to now be able to offer cutting edge Advanced Allergy Therapeutics to its patients who suffer from a variety of skin, respiratory, digestive, and even behavioral issues associated with environmental and autoimmune sensitivities. Read more...