Schulhof Animal Hospital Pet Grooming
Keep Your Pet Looking Good and Smelling Great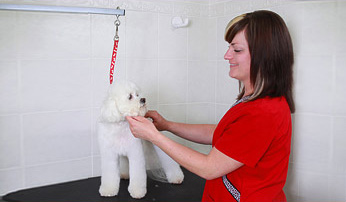 Proper grooming is essential for keeping your pet comfortable and ensuring its skin and fur are healthy. So why not let our petgrooming salon in Fairfield County provide your pet with some healthy pampering?
Because we believe grooming is important to your pet's health we take it very seriously, but that doesn't mean it shouldn't be fun or feel good. Our salon has the latest products, technology and equipment to ensure that your pet emerges from their appointment feeling and looking great.
Our grooming staff is also highly experienced in a wide range of grooming techniques, including breed-specific scissor cuts, and is uniquely experienced in the grooming of cats. We also have hydraulic lift tables and walk-up tubs for your pet's safety; a Hydrosurge bathing system that massages as it deeply cleanses the skin and fur; and all-natural and organic shampoos and conditioners. We also offer grooming consultations with one of our highly trained and experienced stylists prior to your pet's appointment to review your pet's grooming needs.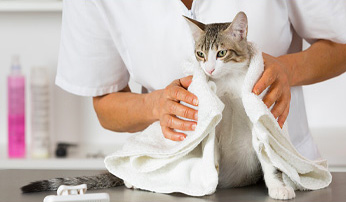 Basic service packages include Bath and Fluff, Bath and Brush, or Bath and Trim. We also offer a number of A-La-Carte services that can be mixed and matched with one of our basic packages. These include teeth brushing, medicated shampoo, hypo-allergenic flea and tick shampoo, winter paw treatment, ear cleansing and plucking, nail polish and more.
We also have a specially formulated skunk bath in case your dog has a run-in with a skunk.
Our grooming salon maintains extended hours in order to accommodate your busy schedule. In some cases you may also schedule your pet's routine medical care on the same day as a grooming appointment. Make sure to make your appointment as soon as possible in order to get your preferred time and date.
As a safety measure for all of our pets, we also require the same proof of vaccinations as listed above for our Fairfield County, CT cat and dog boarding services.